Please pay for your Lot within the payment period.
Log in to your account — 'I am the Buyer' — 'My transaction list' — 'Not yet paid'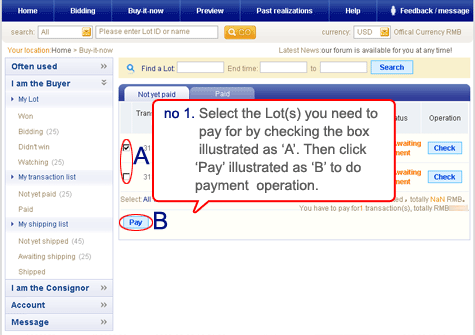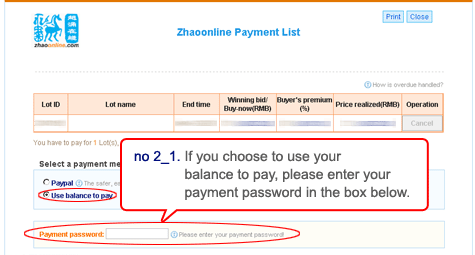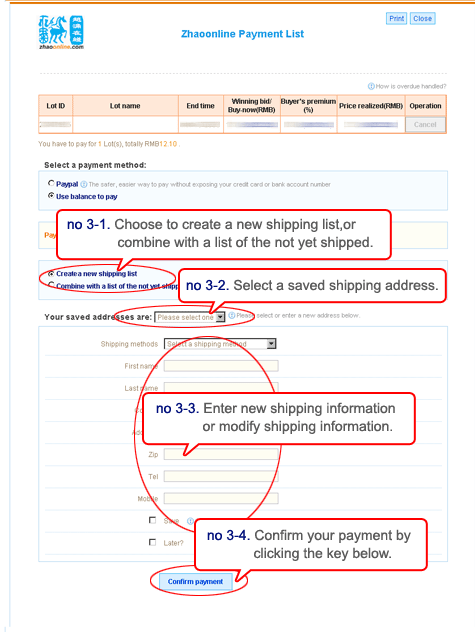 What if I didn't pay within the payment period
If you fail to pay for the Lot within the payment period:
1. The Lot is considered unsold. Zhaoonline has the right to deduct the realized price of the Lot from your deposit to indemnify the loss of zhaoonline and the Consignor, and re-auction the Lot or return it to the Consignor.
2. Freeze your other bid history on the zhaoonline, and so does your membership.
3. Reserve the right of bringing a lawsuit against you and demand you to indemnify zhaoonline's loss caused by your breach of the contract.
Tip: If you use the balance of your account to pay for the Lot you won (if your balance isn't enough, please first convert deposit to balance). If both of your balance and deposit are not enough, please add funds first. Then select ship now. What you will pay includes price realized, shipping fee, and insurance etc. For any Lot which exceeds free custody period, if you select ship now, you also have to pay custody fee.